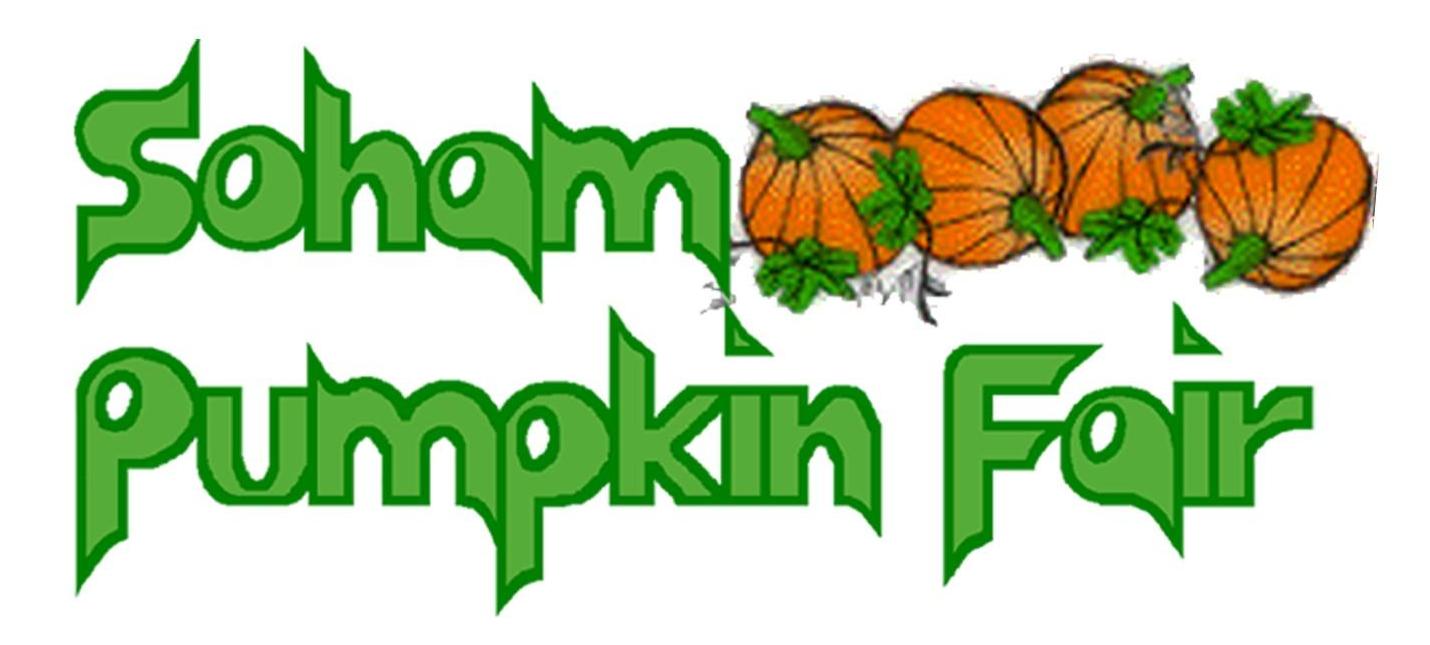 The Committee
The Soham Pumpkin Fair committee are a team who are responsible for the organisation and execution of everything that is required to ensure that each year's pumpkin fair runs successfully and that all resources that are required are obtained and managed, all expenditure is accounted for and all funds distributed to the chosen charities.

Work commences on the planning of each fair soon after Christmas, and committee meetings are held on the first Monday of each month at the Carpenters Arms Public House in Brook Street Soham at 8pm to co-ordinate work and assign tasks as they arise.

This year the Corona Virus pandemic has continued to force us to abandon our usual face-to-face meetings in favour of Zoom meetings conducted on PCs and mobile phones. We have had to abandon our published schedule of meetings and replace them with emailed invites which we all connect to with as much sound and/or video as we can manage. This will not preclude any persons attending meetings who wish to become a part of the committee, please contact us on office@sohampumpkinfair.co.uk, and we can arrange for you to partipate.

Meetings for 2021 are currently:


Tues 6th April 2021 (Zoom)


Mon 6th September


TBA
(SPF Determine Donations)


Tues 4th May 2021 (Zoom)


Mon 13th September 2021




Tues 1st June 2021 (Zoom)


Mon 20th September 2021




Mon 5th July


Sat 25th September 2021
(Soham Pumpkin Fair)




Mon 2nd August


Mon 27th September 2021
(SPF Post-Fair Review)




Mon 23rd August


TBA
(SPF Presentations & AGM)






If you feel that you would like to join the team, and you are able to commit to the effort required not only throughout the year, but on the day of the fair as well, when we have a huge variety of work which the committee performs - ranging from erecting stalls and managing a barbecue to booking produce in for competitions and weighing pumpkins (and a host of other tasks inbetween!), then you are probably the person that we need. Please identify yourself to any current committee member, or email the Pumpkin Fair Office at office@sohampumpkinfair.co.uk. We'll be pleased to hear from you.

The current committee is:

Officials
Michelle Harrison (Chairperson and Events & Stalls Manager)
Andrew Fletcher (Vice Chairperson)
Jenny Fletcher (Secretary and Press Officer/Indoor Competitions Coordinator)
Steve Knott (Treasurer)
Derek Garters (Minutes Secretary and Catering Manager)
Richard Matthews (Brochure Manager & Compere)
Sherry Ratcliffe (Indoor Competitions Coordinator)
Roy Pallett (Web Manager)

Committee Members
Adam Knott
Kirsty Knott
Stephen Frost
Babs Cross
Rachel Green
Chris Ratcliffe
Steve Hamblyn

Soham Pumpkin Fair Website designed 2012 by SPF Committee
SPF_Fair_Committee.shtml Version 19.1 by Roy Pallett 24th March 2021
Drop Down Menu Design © 2007 stunicholls.com